Yes! Austins is getting back into the office
After what seems like forever in lockdown, we can start to see light at the end of the tunnel.
At Austin Marketing, we are starting the process of returning back to work from our office, here in Addlestone. Our work has always been undertaken from there and working remotely has not stopped us from providing our clients with high-quality work and support in these strange times. The team is now excited to return and we want to make sure we do so in a safe way, whilst keeping everyone's health & safety a priority.
This naturally raised a few questions of how we can successfully achieve this and we have been following the guidelines, issued by the Government.
Here are some of the actions we have taken to ensure a safe return to work for the team:
1. We have completed a risk assessment of the office, which has included how the team will enter and leave the building, the start and finish of the working day and most importantly some rearranging of the work stations in the studio.
2. For us, even though we're a small team, any internal meetings will be kept short and within the 2m safety distance, while our client meetings continue to take place virtually - so don't give up on Zoom just yet! If - by some miracle - you've managed to dodge the video meetings trend, and you don't know where to start, have a look at our Guide of the Top 4 Free Apps.
3. We will be continuing with the hygiene measures and have a good supply of sanitiser to hand!
4. We will actively encourage the team to "Stay Alert" and to look out for each other.
At Austins, whilst working remotely, we've kept our office routine and started a morning eMeeting, where everyone is present and we can check on the team's wellbeing, as well as any technical issues or queries that need to be clarified with the team's support.

This has helped enormously but it is hard to maintain the social aspect of the office banter in a virtual environment and in this economical context. To help infuse the team spirit back, we are arranging an Office Virtual Pub Quiz before returning to work. Need help infusing a bit of team spirit back into you? Why not try this for your team!
Although this situation has not affected the quality or speed of the work we provide to our clients, the return to office will no doubt help us get back into our routines and bring a welcome sense of normality into all our lives.
If you are looking at returning to work and would like us to support you during the transition with marketing e.g. installing social distancing and safety signage; these might be Roller Banners, Posters and or Floor Markings placed in all office entries, product collection points and/or any areas where queuing might be required, as part of our design services, we can help you put a plan in place and arrange for all the printables to be installed in your premises.
If you are concerned about communicating these hygiene measures in a simple and practical way, we've been producing a set of Safety Standards and a Safety Video for one of our clients, why not have a look?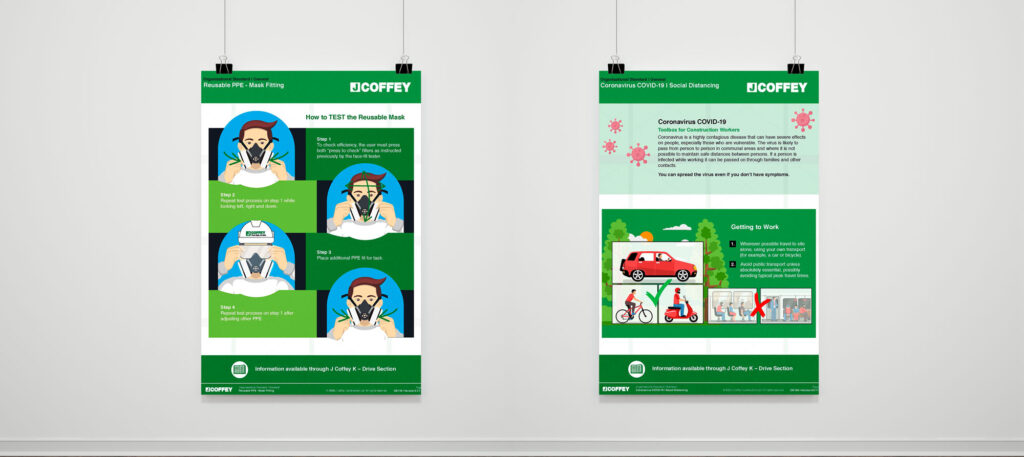 The pandemic has had an unequal impact across the workforce in many ways, as different groups of employees and individuals will have been affected in diverse ways according to their job role and individual circumstances. Therefore, it's important that the organisation fosters an inclusive working environment and managers are sensitive to any underlying tensions.
If you're not sure what you're facing on your return to the business world and would like some help to boost your marketing, we can help.