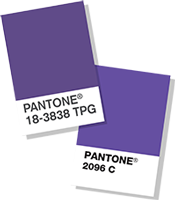 New Year, new colour! Give an official 2018 welcome to PANTONE 18-3838 Ultra Violet, Colour of the Year.
"The Pantone Colour of the Year has come to mean so much more than 'what's trending' in the world of design; it's truly a reflection of what's needed in our world today" – Laurie Pressman, Vice President of PANTONE® Colour Institution.
Pantone has really pulled it off with the Colour of the Year 2018. Austin Marketing, always ahead of the curve, had chosen to paint the studio this purple shade a few years back, to inspire us here on the top floor of the agency. Now we're finally a trend!
Mysterious purples are known to strongly embody counterculture, originality and artistic genius. PANTONE 18-3838 Ultra Violet also represents experimentation and non-conformity while it also pushes boundaries through creative outlets.
*PANTONE® is the property of PANTONE inc and is a registered trademark.