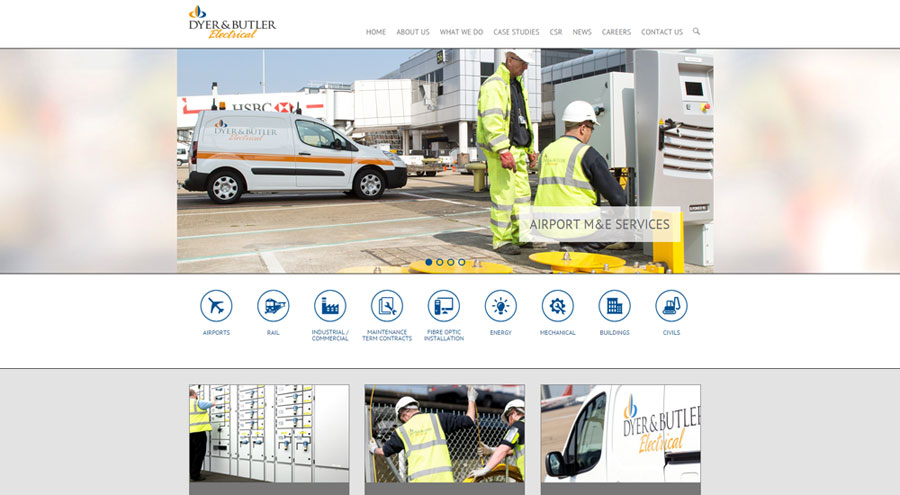 Following on from the successful design and development of Dyer & Butler's website, Austin Marketing were commissioned to create a brand new website for Dyer & Butler Electrical, a relative newcomer to the Dyer & Butler Group of companies.

Formed in 2012, Dyer & Butler Electrical is a specialist mechanical and electrical (M&E) contractor, working predominantly within the airport, rail and petrochemical sector. Whether integrating electrical, mechanical or data services into a new terminal or upgrading the AGL lighting system to an existing airport, Dyer & Butler Electrical's experienced M&E team appreciates and understands the challenges that working in a safe and operationally critical environment creates.
Being part of the Dyer & Butler family, the objective was to create a site with essentially the same look and feel as the Dyer & Butler group, but with relevant, fresh and engaging content to showcase Dyer & Butler Electrical's wealth of experience. As Dyer & Butler Electrical directly employ a multi-disciplined workforce, as a result the decision was made to utilise professional photography to show people at work within high-risk and safety-critical areas.
Case studies are used to provide validation to prospective clients that the business has the relevant skills and expertise to carry out major projects, safely, on time and to budget.
The design is clean and fresh, with simple intuitive icons, menus and page layouts. The website offers complete responsiveness with a collapsible menu, enabling visitors to navigate through the site with ease on all devices, to find the information they may need.
The Dyer & Butler Group websites utilise easy-to-use CMSs (content management systems) to allow the website administrators to add new and change content, in- house quickly.
Visit the Dyer & Butler Electrical website.