As most of our SEO clients will now know, Google has launched a new Core Update back in May 2020, which has influenced ratings and website performances across the spectrum.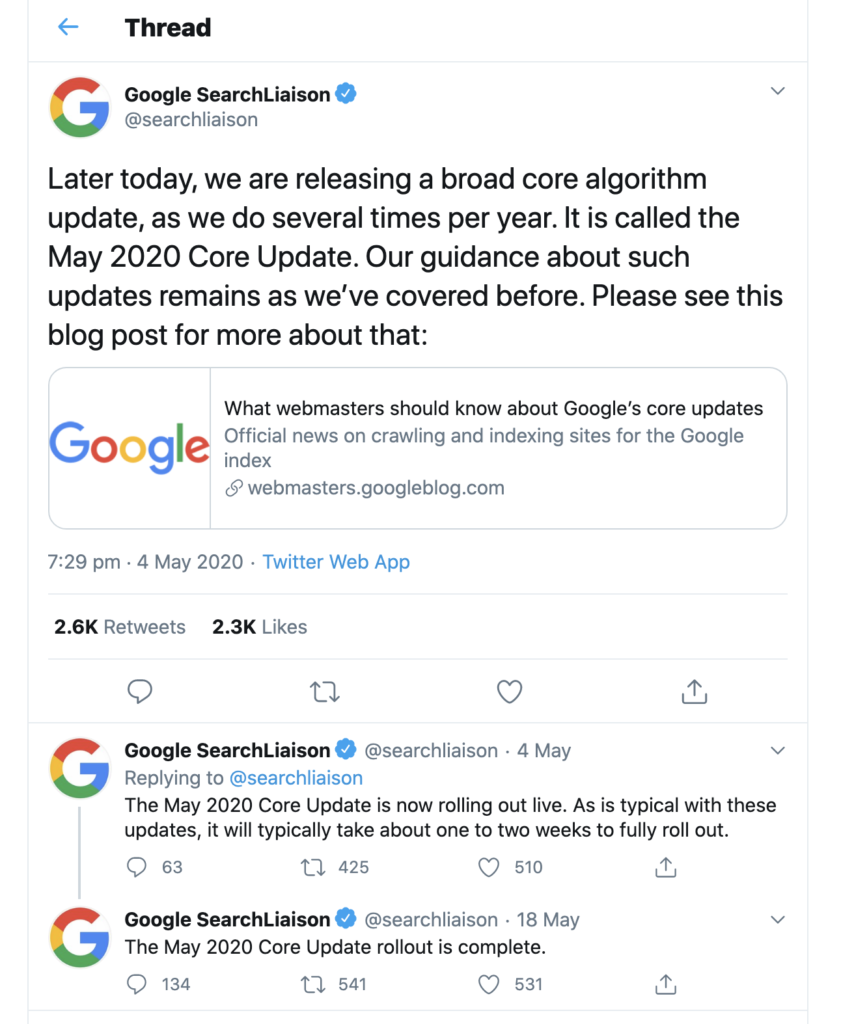 This type of large update tends to alter website rankings when it's being implemented, which is why Google makes these announcements public, as explained in the Google blog:
Several times a year, we make significant, broad changes to our search algorithms and systems. We refer to these as "core updates." They're designed to ensure that overall, we're delivering on our mission to present relevant and authoritative content to searchers.
[…]
We confirm broad core updates because they typically produce some widely notable effects. Some sites may note drops or gains during them. We know those with sites that experience drops will be looking for a fix, and we want to ensure they don't try to fix the wrong things. Moreover, there might not be anything to fix at all.
And then, on May 28th, a larger shift was announced – although only expected to happen in 2021, now focusing on the user's experience quality in the website.
Today, we're building on this work and providing an early look at an upcoming Search ranking change that incorporates these page experience metrics. We will introduce a new signal that combines Core Web Vitals with our existing signals for page experience, to provide a holistic picture of the quality of a user's experience on a web page.

The page experience signal measures aspects of how users perceive the experience of interacting with a web page. Optimizing for these factors makes the web more delightful for users across all web browsers and surfaces, and it also helps sites evolve towards user expectations on mobile. We believe this will contribute to business success on the web, as users grow more engaged and can transact with less friction.
With this update, Google is emphasising UX factors such as how fast pages load and how quickly they respond to a user's click. However, Google's commitment to "delight" and "less friction" signals that they have a deeper interest in engaging, obstacle-free online experiences – and so do the clients that use your website. The easiest way to explain this update, is that user-friendly sites will rank higher than sites that aren't user-friendly. What Google is doing is adapting its algorithm to align more closely with the mission of showing the sites first that users love the most.
Here's an example Google provides to explain what a bad experience might look like, where someone accidentally taps the wrong button when it shifts place under your pointer:
However, the present moment couldn't be more unsuited to introduce these changes, as retailers are currently tackling the post-COVID-19 situation, so although Google's announcement was done now, this algorithm update will not go into effect for at least six months.
So, although no immediate action is necessary, it wouldn't hurt to start having a good look at how your website's overall experience is panning and how it can be streamlined.
If you're not sure where to start, we can help – get in touch.