"just setting up my twttr" – Jack Dorsey, Twitter Co-founder – March 21st 2006
Yes, this is the world's first tweet.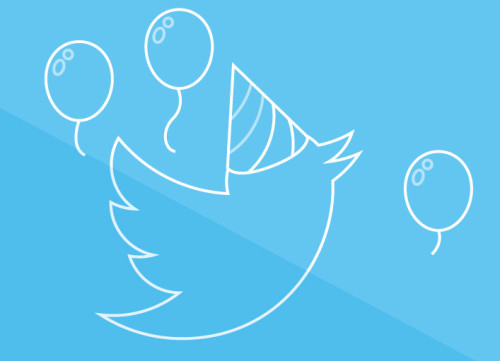 Inspiring? Not particularly. Comical? No. Ground-breaking? Yes.
No-one could have predicted what would follow on from these few characters 10 years ago today.
Now, with 320,000,000 users, the world is well versed with one of its favourite real-time social media platforms, and if we're honest, we probably don't give a lot of thought to how much it has truly impacted our lives.
Therefore, we're taking this opportunity to look back and see how Twitter has changed the way we communicate forever. Happy Birthday Twitter!
1. It changed the meaning of 'breaking news'
Twitter has given us access to the most up-to-date news as it happens, taking 'breaking news' to a whole new level. With a global network of users who have near-constant access to smartphones, we now hear about events as they happen from the people witnessing it. This consistent updating tweet by tweet means Twitter has fast become the first place of choice for fresh news.
2. It allowed us to connect with inspiring people and brands
10 years ago, the thought of instantly sending a message to your lifelong idol whilst getting to see numerous photos of their day-to-day life was so far-fetched it wasn't even considered. Today, we can follow those that inspire us, interacting with them (and if we're lucky enough – get a response back), customising our dashboards by following people and companies that stir us.
3. It enhanced customer service
Companies now have an additional platform to help solve customer queries and complaints. Twitter has evolved into a preferred platform for customers seeking answers, with it often being a more quick and stress-free way to get help than waiting on a phone for endless periods of time.
4. It gave us a platform for promotion
Twitter allows businesses to reach out and promote their brand to wide audiences, sharing articles, blog posts and case studies to increase awareness and improve websites' SEO. Twitter Ads have also enabled businesses to expose their services and products to specific audiences.
5. It enabled us to detect life-saving trends
Last year the US geological survey were able to use data from tweets to 'track seismic activity across the globe' [Source] by tracking mentions of the word 'earthquake' in tweets as they were posted.
6. It has ensured we always have someone to talk to
Getting involved in conversations about what's currently happening on the TV/at an event with people you've never met face to face may have seemed odd a few years back, but now, for most twitter users it's second nature. You feel part of a community, a network of those who share the same interests as you – there is always someone to talk to.