Austin Marketing have been commissioned by Peelle – a world-renowned heavy duty lift door manufacturer – as their marketing agency, which is including the design and build for a new European, Asia and Pacific website, advertising in the UK, case study creation and photography across Europe.
Austin Marketing were first brought to Peelle's attention through their partner Focus Lifts, after Focus commissioned us for their Liftex 2013 stand where Peelle were a heavy focus. Peelle were impressed with the work we had done, and decided to meet with us. Not only did we get on well, they were also impressed with our in-depth industry experience.
During the summer of this year, we have also been running a PPC campaign for Peelle, which has generated a significant amount of visits to the Focus Website.
The website project so far has required a lot of planning and commitment from the very beginning; the job entails that we provide the design, build, written content and the multi-lingual capability of the website. The main aim was to create a design that is easy to navigate and that is able to incorporate a good amount of information and high definition images without it feeing claustrophobic and overcrowded.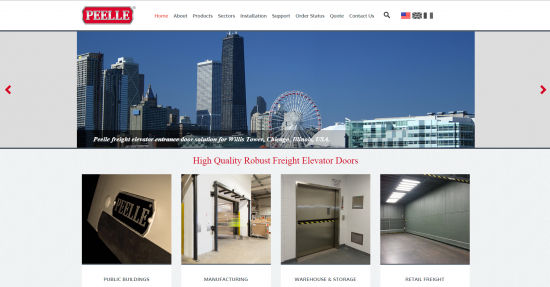 Moving forward to today, the website is fully responsive, with a large, sophisticated slider display across the header of the homepage, highlighting some of the major locations Peelle have provided their doors for. These striking header images continue on throughout the site for all the pages which are also filled with well-researched, in-depth and composed content.


The website will have the option for changeable country-specific content, and as planned, is on its way to providing multi-lingual capabilities. Whilst there is still a bit more work to be done, the website is due to be published online in the last quarter of 2014, and overall, Austin Marketing have been extremely pleased with the way in which the website has progressed.