Whilst using social media to market products/services is by no means a new idea, many businesses are having to rethink their social media marketing strategies due to COVID-19.
The impact the Coronavirus is having on day-to-day business cannot be underestimated and this is why businesses must be proactive. Unfortunately, no one knows how long this period will last, but it will end. Therefore, businesses that can upkeep an effective marketing strategy during this challenging time are more likely to bounce back as our economy starts to recover.
Whilst we all adjust to the 'new normal' of self-isolation, social distancing and working from home, many of us are finding ourselves using social media a whole lot more than before! Facebook and Instagram have seen a 40% increase in usage due to COVID-19, with views for Instagram Live and Facebook Live doubling in one week!
Read on to find out how your business can use social media to its advantage during the COVID-19 lockdown…
6 ways to utilise Social Media during the COVID-19 lockdown
Post more often
Some of us are finding ourselves with more time on our hands at the moment, as normal business practices change. Use this time to your advantage! Put together a proactive social media strategy. Try to post at least once a day, to let your followers know how your business is doing and any changes that are being made due to the Coronavirus.
Make use of hashtags
When it comes to posting, make sure you include #hashtags. Using hashtags helps to categorize your content for your audience. It allows users to find your post by following the hashtag. This is an excellent way for your social media posts to reach users beyond your current following. Keep an eye on popular hashtags and try to be topical with your content, humanise your brand and show that you are responsive to the current climate.
@Mention and communicate
If your social media content mentions other brands or individuals, make sure you @mention them. This way they are more likely to see your content and reshare it, opening up your social media channels to new audiences. Which leads us onto our next point…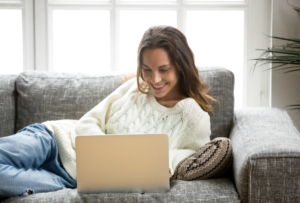 Contact influencers
If you are a B2C business, take some time to research into social media 'influencers' that you feel would benefit from your product/service (if your service can still be provided). Try to make contact with them, if possible you could even send them a free sample of your product/service in exchange for them to post about it. In the current social media climate, a lot of social media influencers are expressing their willingness to make use of their large followings to help small businesses during the COVID-19 lockdown. So now is the perfect time to develop these relationships!
Sponsor your posts
All major social media channels (Facebook, LinkedIn, Twitter and Instagram) offer a sponsoring option. This will allow you to assign a budget to your posts and target audiences in which you would like your posts to reach. This allows you to quickly expand your businesses reach on social media and gain new followers.
Humanise your brand
The COVID-19 landscape is difficult to navigate, with much debate on the ethics behind marketing during the Coronavirus pandemic. It definitely should not appear as your company is trying to profit from a crisis! As this is a sensitive time for us all, be careful in your advertising. Use social media to show how your business is staying positive and proactive during this challenging time, reassure your audience.
The social media team at Austin Marketing hope that this blog post will assist any businesses struggling to navigate this difficult landscape. We understand that times are tough at the moment and we want to help!
If you have any questions regarding your social media content or need some inspiration and assistance, get in touch with one of our social media professionals today.