It's safe to say that these last few weeks have not been the easiest as the Covid-19 outbreak has globally and dramatically affected all areas of life and caused businesses and economies to decline. More importantly, businesses have seen significant changes in their online web presence, both positive and negative.
Various B2B companies have experienced a decline in their website traffic while brands within the retail sector, such as Tesco and Boots, have seen a notable rise in the number of user visits and engagement as a result of the outbreak.
When it comes to SEO, it is about keeping up with and outperforming the online competition, especially in times of crisis,  not just to make a website as visible as possible but to also maintain a healthy relationship between the website and Google by ensuring all the webpages follow the most up-to-date SEO practices.
At Austin Marketing, we have been doing exactly that for all of our online customers and we can do the same for new customers.
Following the Prime Ministers' announcement on 24th March, addressing Britain's lockdown requirements, our SEO team has been developing and planning new SEO strategies for our customers, to get them through this unprecedented time.
Achieving the best level of business continuity is currently the central aim of every industry and business. However, the past week has presented businesses with difficult decisions regarding their team of staff and temporary service closures, which is why they should not only consider a reshaped marketing strategy for here and now but for the long-term, as an end date to this lockdown and outbreak is indefinite.
A reshaped marketing strategy allows businesses to maintain the essential functions that help their business run successfully, including their website presence across Google Search and other engines. While there is still a demand and interest for various businesses' products and services, a strong level of digital marketing and sales activity will need to correlate with that demand in the most innovative form.
Here are a few SEO strategy examples that we have been and are currently focusing on:
Adapting our SEO work for online customers 
Most of the Austins team may be working from home at present but that has not put a stop to the SEO work we undertake on behalf of our online customers
One of the major SEO advantages is that it can be carried out almost everywhere you go as for most of it, a username and password are the only details a marketer needs. This advantage not only prevents a business's SEO position from diminishing but also helps an SEO team assist with a business' search presence while other elements of marketing have been put on hold.
The team has been using this opportunity to pay closer attention to additional content for our customers and refreshing older content on the website.
Ensuring our customers have continued growth in digital presence while competitors begin to lose momentum 
There are no predictions as to when there will be an end to the Coronavirus crisis, however, it is important for businesses who have an established online presence to sustain it as best as possible during Covid-19. The likely end result of this would be that the business reaches a much better SEO position after the crisis ends, giving them a competitive edge.
The last thing that we would want for our customers is for them to be left behind once approaching the end period, which is why the continuation of SEO optimisation will help our customers' SEO performance consistently improve while others drop.
A possible reason for some competitors losing momentum could be down to them cutting their SEO and marketing spend as they may feel that there is no purpose in maintaining their digital presence at this time, which couldn't be further from the truth. This is the perfect time for the business to pursue a new digital strategy that would put them a few steps ahead of their competition.
We understand the change in consumer behaviour does not necessarily mean that there are fewer users researching for a company's product or service and in this case, it is key to be prepared and take advantage of this opportunity to drive additional traffic.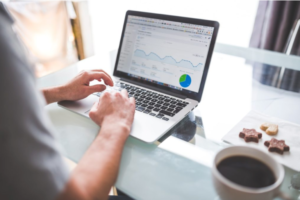 Setting up and regularly updating a dedicated Coronavirus page
Many of our customers are in the B2B and B2C sectors, with some having responsibilities in maintaining and supporting their customers who provide essential and front line services throughout the UK.
As a result of this, our team have created a dedicated Coronavirus page for our online customers working with their essential and front line customers, to reassure them that they remain a huge priority during this time and that they still have an operational team available to urgently assist them.
Website monitoring and re-optimisation in response to potential changes in SERPs and Google Algorithms 
As a marketing agency and a Google Partner, we keep up-to-date daily and weekly with the latest Google Algorithm updates and SERPs (Search Engine Ranking Positions), to ensure our SEO work is always current and relevant.
At this time of crisis, various industries and businesses can expect a big drop in organic search results and SERPs and for our clients, in particular, we have been reviewing the monthly search volumes for their priority keyphrases and taking action to improve their appearance in Google Search.
Whether it is adjusting a webpage's SEO title, to target long-tail keyphrases with a higher monthly search volume or refreshing the page with a new sub-section, it showcases new and returning users that the business is a progressive one.
Our team hopes that this blog post helps businesses stay connected and competitive in the  Search Engine world, during this turbulent time. We understand how challenging the SEO process can be and we would be more than happy to help you increase both the quality of your website's SEO and quantity of your website's traffic.
If you have any further questions regarding your business' SEO presence, please do get in touch with one of our SEO professionals for a no-obligation chat today.